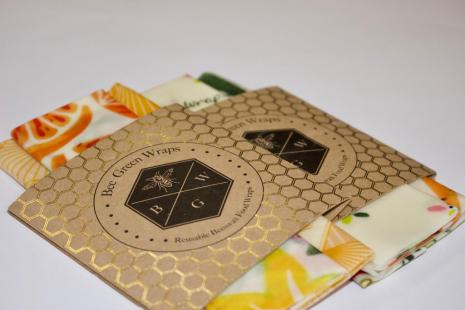 2 Pack beeswax wraps
£ 9.99
Beeswax wraps are food wraps which are made from beeswax, Organic jojoba oil, tree resin and organic cotton . 
Reusable - each one can lasts for around a year 
Washable - simply rinse in cold or tepid water 
Strong - tough and resilient, they do not tear easily!
Organic-100% natural 
We have two choices for our customers to choose either packs of 4 or packs of 2 wax wraps . 
A pack of four (Small, Medium, Large & Extra Large) beeswax food wraps - a perfect eco-friendly gift .
ONLY £18.99
With dimensions of  : 
Small - 20cm x 20cm
Medium - 26cm x 26cm
Large - 31cm x 31cm
Extra Large - 35cm x 35cm 
A pack of two (Large & Mid Large ) generously sized organic beeswax wraps that are perfect for wrapping your packed lunch and so much more!
ONLY £9.99
With dimensions of :
Large - 31cm x 31cm
Mid Large - 31cm x 21cm
Delivery : 
If you're studying at Maynard School , you will be able to receive your beeswax wraps the next day from your form tutors . 
If you do not go to Maynard School , we are offering Royal Mail second class delivery and your order will be dispatched within 3 days . 
Returns : 
No returns are allowed except for if flaws in workmanship are found (as long as tags have not been removed ) 
Here at viridian earth , we are encouraging sustainable living by creating reusable, practical products that will help customers to combat the global environmental crisis in an easy , affordable way . These products make fabulous Christmas presents and we have stock immediately delivery to you all .