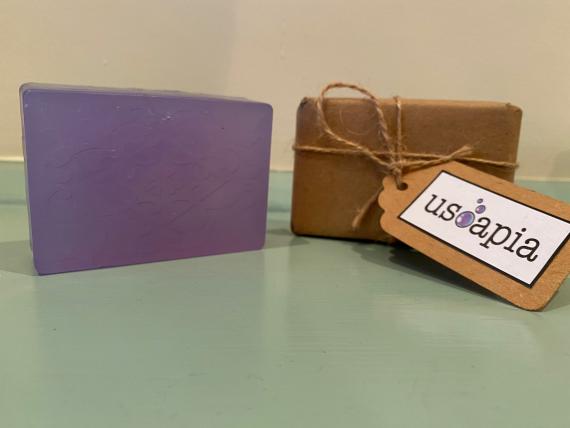 Amber and Lavender Bar Soap
£ 4.50
An ethical alternative to aftercare, made within sanitary and safe and conditions. 
Our Amber and Lavender Bar Soap provides a provencal and sweet smell to the hand. Its slowly lathering properties allows hands to be left smooth, clean, and aromatic. 
The crystal-based soap bar includes no support to the deforestation of rainforests for the aggressive production of Palm Oil. With no plastic used within the process, the packaging is recyclable. 
Usoapia offers Delivery upon standard rates through either Hermes Postal Service or Royal Mail. Production and dispatch on our side is completed within 48 HRS, due to the tailored aspect of our service. 
Delivery Cost is fixed at £2.90, independent on the amount you desire to purchase. 
Returns are offered in the most extreme of cases, however due to the nature of our product, we'd appreciate the discussion of dispatching a new soap if this is what you'd like through our email, which can be found upon our page. 
Usoapia, formed upon a team of 15 dedicated entrepreneurs started this business with the intention of creating an ethical product, that takes an active stand against larger corporations that fail to consider the individual needs of a consumer, or those who desire transparency between them and the company. 
Usoapia also prides itself in offering active training within the Business to try and improve ourselves as a team. Find more about the morality of our company, or what we're up to through our social media or website.