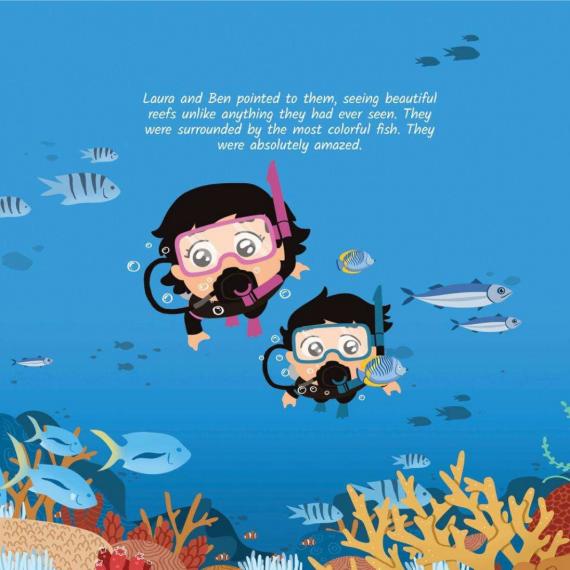 Archie's Eco Adventure
£ 8.99
Follow along with Ben and Laura as Archie the mouse takes them on adventures to explore the effects of climate change. From seeing a struggling polar bear at the north pole, to learning about the beauty of the coral reefs in Australia, Ben and Laura's love for our planet grew. They learned that as humans it is our job to protect the planet, so read along to learn how you can too.
Archie's Eco Adventure is aimed at children between the age of 5-7 year olds. This book goes more in depth about climate change, and highlights more complicated issues which can now be understood due to the increased maturity  of the reader. The book is a great follow on from our first book which created the understanding of the basics of environmental challenges. The story revolves around Archie the mouse taking two children, Ben and Laura, on an adventure around the world to teach them the effects of climate change. From seeing a struggling polar bear at the north pole, to learning about the destruction of the beautiful coral reefs in Australia, this book provides an exciting and interesting way of learning about these key issues. 
We use the highest quality card and state of the art binding techniques to make this book stand the test of time and stay feeling as good as new for many years. This durability reduces paper waste in the long term and helps us achieve a more environmentally friendly future. 
Shipped using Potato Starch Biodegradable packing
FOR WHOLESALE ORDERS OR MULTIPLE COPY ORDERS PLEASE EMAIL US.
More Details:
Inner : 200GSM Silk Card
Cover: 350GSM Gloss Card
Binding: Saddle Stitched 
For more information please feel free to email us. 
Shipped using Royal Mail 2nd Class.
Delivery: £1.99
Biodegradable packing made of potato starch.
No Returns
Product Dispatches Early February
Kaizen is a Japanese philosophy involving tackling problems at the grass root level in order to bring change for the better. The next generation will be most affected by the environment and climate change. We believe it is key to start tackling the issue of climate change as young as possible. We are the most impressionable in our youth and what is taught to us when we are very young influences us the most, therefore it is key to tackle this issue as young as possible. Our Goal is to teach the basics of environmental issues to children. This is why we have created two high quality books teaching young kids about saving the environment.