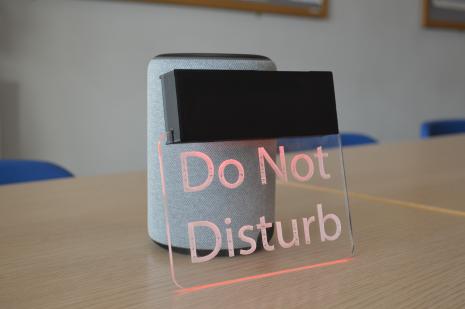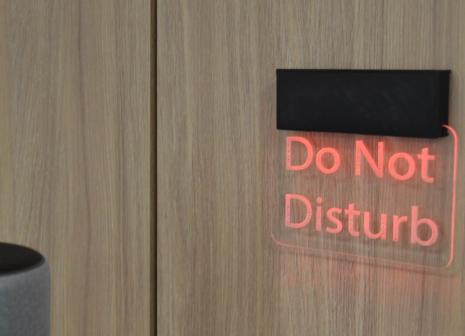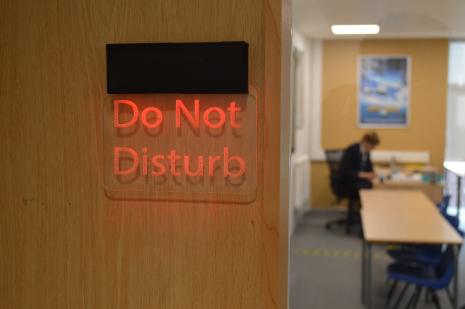 The Do Not Deskturb Smart
£ 20.00
The Ultimate Upgrade for the Working Professional; a Fully Integrated Smart Sign to Prevent Interruptions, Permanently. 
Modern. Sleek. Professional.
Featuring a sleeker design and signature red light clearly forbidding entry, the Do Not Deskturb Mk.2 harnesses the versatility of both 3D printing and laser cutting technology to create the finest product for any professionals now working from home who want to rid themselves from unwanted visitors in style.
Control our state-of-the-art smart sign from your own phone, also compatible with Alexa and Google Assistant. Set a working schedule for your day to automate your Do Not Disturb routine; never suffer an interruption in an important meeting again. For the ultimate professional hampered by home working, buy the Smart solution now! 
Once you have placed your order, we will email you an invoice. We are currently only able to accept cash or cheque payment mailed to (or dropped off at) the Royal Grammar School Office (postcode is on the invoice) addressed to "Firefly". The product will be delivered in the first half of next month, due to the Christmas break.
4 AA batteries are required (not included). For the sake of sustainability, we strongly recommend you use rechargeable batteries if possible, however the product will work with single-use batteries. Note: smart speaker not included, compatible smartphone required to set up (Android 4.1 and above, or iOS 10 or later).
Your order will be sent to you via Royal Mail 2nd class, with the option of 1st class post available (please enter 1st class in the 'company' field - 70p extra).
Parents of GHS students can opt for free delivery as you will be able to collect your order in the first two weeks of next term from the Senior School Reception. Please also drop of your payment in cash or cheque form addressed to "Firefly" at the Senior School Reception. The reception is open from 9am-4pm until December 23rd or you can pay in the new year. 
Alternatively, parents of students at RGS can opt for their child to collect the order as it will be distributed to them via their form tutors free of charge in the first few weeks of next term.
If you want to opt for either, you must enter your son's/daughter's name and form group into the 'company' field when entering shipping address. You will still see the delivery cost when completing the order - we will remove the delivery fee before sending your final invoice.
We have a 30 day returns policy as long as the product is returned in saleable condition. Copy and paste this link in a new tab to view our policy: firefly-technology.co.uk/returns-policy.pdf
Firefly is a Young Enterprise company formed by a team of 10 sixth form students from the south of England. We decided to help solve an increasingly widespread problem: interruptions during meetings. Our company's aim is to bring useful smart products to you. Should you want to speak to a member of our team, you can use the email below! Contact us at [email protected]
View our website today by pasting this link in a new tab: firefly-technology.co.uk