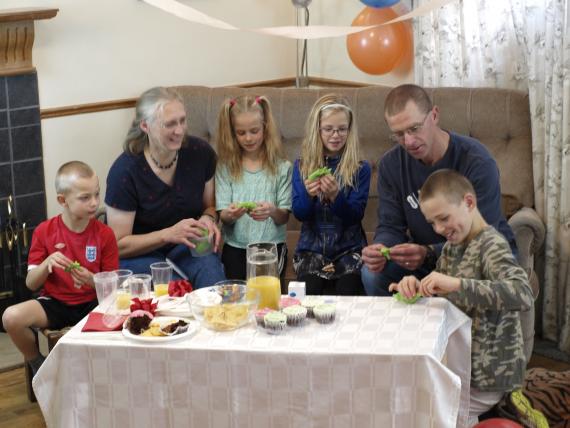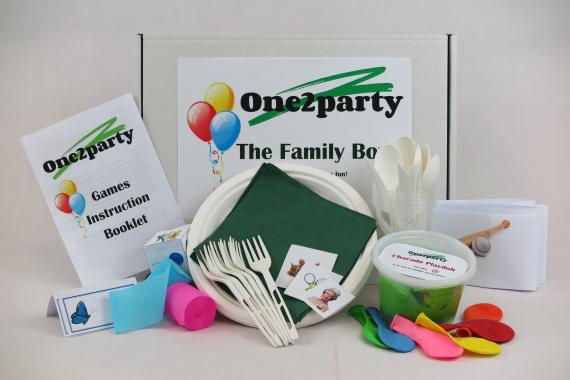 The Family Party Box
£ 25.00
Looking for a great way to spend time at home? The Family Party box is your solution, transporting children into a world of fun and adults into their youth! And anyways, who said that a party is a hassle?  Our straight forward instructions and party essentials make your experience easy, convenient and unforgettable. And why not eco-friendly? One2party ensures that all items are compostable or biodegradable!
IN THE BOX
Games in this box
Think Fast 

Be the first to guess the word!

Charado Playdoh 

Guess the object made with playdoh!

Panic Post 

match the picture to the right box in your house!     

Formation Creation 

Can your entire household form the    shape of an object?

Who Am I? 

Guess the name on your back!

Huckle Buckle  

Who can find the hidden object first?
Party essentials
6 Plates 
6 Cups
6 Knives
6 Forks
6 Spoons
Napkins
Balloons
Streamers
RETURN & REFUND POLICY
Customer service is a priority for One2party. If you encounter any damaged or missing items, please email us at [email protected] or call us at 01304 842 980 and we will be happy to help.
SHIPPING INFO
Free UK delivery within 5-7 working days.
International: contact us at One2party.co.uk for a quote
About Us
One2party was founded when a group of teenagers got together with one goal in mind: provide families who are stuck at home, because of Covid restrictions, with something that would guarantee a great time.
The result: a party box like none other.
​
Filled with games that will have you on the floor with laughter, and eco-friendly supplies that enable you to party and save the planet, our box will guarantee an unforgettable time. And the best part: it's all in the box so that none of your time is wasted. No extra hassle searching for just the right supplies because we've done that part for you. It's as simple as click, unpack, enjoy!