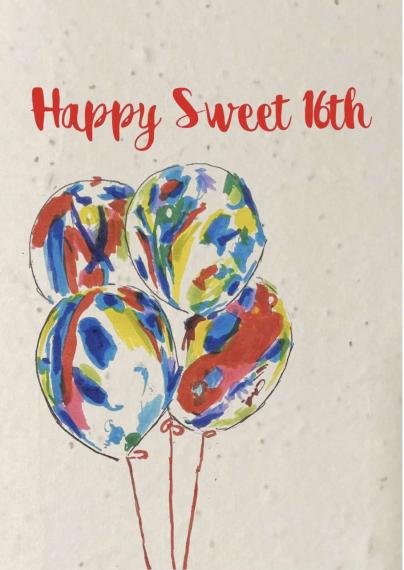 Happy Sweet 16th Seed card
£ 3.00
This hand designed Sweet 16th birthday card grows into wildflowers when placed in compost. We use poppy, daisy, and rudbeckia seeds in the cards. The seeds are embedded into the paper which will decompose to leave no waste behind, just the seeds to grow into beautiful flowers! Help reduce waste during your celebrations.
The card is 100% biodegradable.
Size A5
Not suitable for some international deliveries. Please check before sending abroad - importing organic matter (seeds) to different countries.
We can post your order to an address you provide us with. Shipping costs £0.70 per card on average. 
If your shipping/delivery is free we deduct it from your invoice when you have ordered so you do not pay the shipping cost.
Cards Regards came up with the idea of our seed paper cards by thinking of a way to reduce waste of greeting cards. Holidays and celebrations are fantastic times of the year filled with joy and happiness, but they also are the most wasteful. In the UK, we produce 30% more waste during festive periods and estimated over 1 billion cards end up in the bin. The more waste we send to landfill, the more methane and carbon dioxide is released into the atmosphere, contributing to global warming.