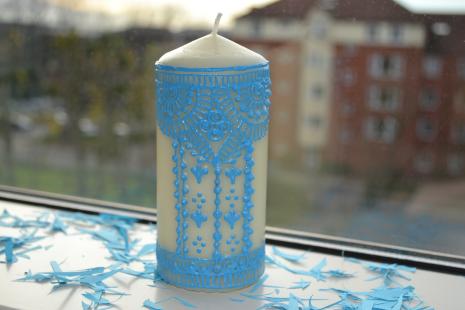 When it comes to creating a cosy, warm and inviting atmosphere, nothing works better than candles. Not only is this a great addition and designer touch to your home/workplace, this can also be a special and memorable gift to a friends or family members for any occasion. 
They make beautiful centrepieces and are a must-have at weddings and parties. The henna design makes an ordinary candle much more appealing with cultural and historical meaning and significance. Henna designs wraps around the candle with elegant spirals and floral patterns, adding flare and luxury to your surroundings.
When purchasing a candle from us, you will be able to customise the colour of the henna used on the candle, and then you also will be able to choose whether you would like a special message or name of your choice to be written on the candle. 
We will be delivering our henna candles through delivery. 
Due to the personalisation of the candles we will not be accepting returns unless there is considerable damage to the product. If this is the case, we will contact you by email to discuss further details.
Any profits made from the sale of candles will be donated to abuse charities. 
We are Iura, Latin for 'rights', which embodies our company belief that everyone's rights should remain sacrosanct. Our main goal is to raise awareness about domestic abuse, a major social issue with devastating impacts. The recent lockdown restrictions have shown to be a catalyst for these incidents and survivors shouldn't be kept isolated and helpless. Pleas for help from domestic abuse victims and survivors exacerbated by 60%. This is truly a horrifying figure, and as a company we refuse to stand by and do nothing. 
After combining our passion and ferocity for innovation we would like to offer you a selection of products that can act as a thoughtful personalised gift for a special someone or even to treat yourself; from henna decorated candles, to spotify glass plaques and resin keychains, our values to show passion and pursue excellence are shown through our immaculate attention to detail and quality of our merchandise.
Purchasing our products will help to spread awareness for these silent epidemics that thrive in environments of secrecy and shame.
"Light up the moment, play the memory"