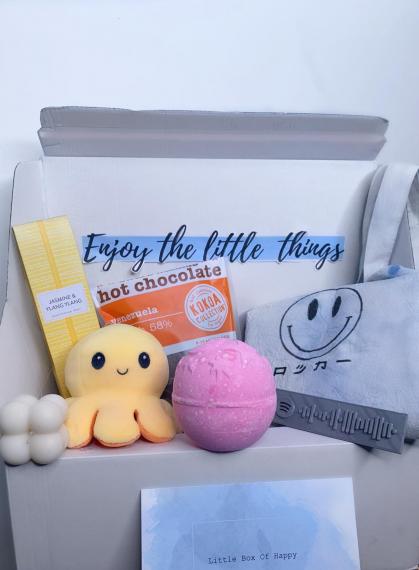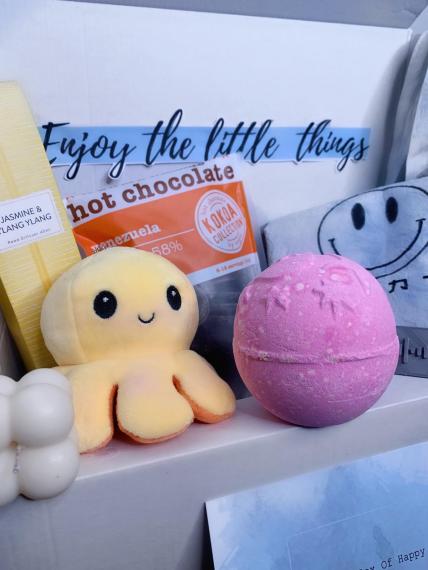 Little Box Of Happy
£ 25.00
IMPORTANT- Refer to Seller Information for how to add a personalised message and a personalised Spotify tag for free into your Little Box Of Happy. 

Our Little Box of Happy is designed so that you can spread your loving touch in a time when touching isn't the best idea (for legal reasons). The box contains a variety of sustainable wellbeing oriented gifts, including;
  -  Scented Reed Diffuser 
- Scented Soya Wax Bubble Candle 
- Hot Chocolate Sachets (Academy Award winning Gluten free/ Vegan Venezuelan 8-12 Servings) 
- Reusable Bespoke Design Tote Bag 
- Personalised Spotify Code Song Tag 
- Reversible Octopus Plushie 
- Lush Bath Bomb
- Personalised Message 
We specifically curated these gifts by carefully choosing our charity and business partners in order to cater to a variety of audiences whilst maintaining an intriguing premise and our sentimental ideologies. The box comes with an array of customisation including song specific Spotify Tags and Postcards with your own personal messages. Our main goals with the box are to try and make a difference, one way we are doing this is by creating a strong social media presence alongside our product to raise awareness for those we are trying to support. The overall purpose of our little box really is just to make those receiving it that little bit happier.
IMPORTANT- When you have placed an order if you want to add a personalised message and chose a song to add to the personalised Spotify song tag please send an email to [email protected] with your chosen message and song with reference to your order number from your conformation email.