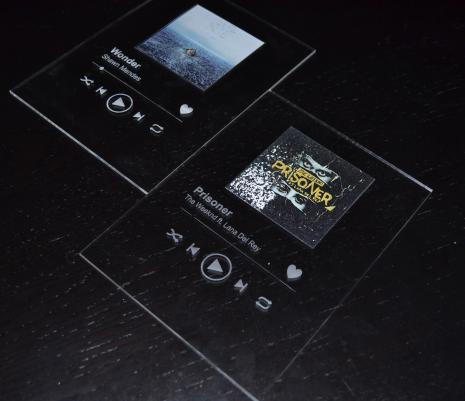 This is a personalised music plaque which can be used as a picture frame, gift or even a decorative accessory. you can personalise the picture (either choosing a picture of your own or simply keeping the album cover). You will also be able to choose the song which will then be engraved on to the plaque.
when you place your order make sure you give a accessible email that we are able to use to get into contact with you to ask for details for the personalisation of the product.
The product will be delivered to you by post. 
We will not be accepting any returns once we have personalised the product and dispatched it.
We are Iura, Latin for 'rights', which embodies our company belief that everyone's rights should remain sacrosanct. Our main goal is to raise awareness about domestic abuse, a major social issue with devastating impacts. The recent lockdown restrictions have shown to be a catalyst for these incidents and survivors shouldn't be kept isolated and helpless. Pleas for help from domestic abuse victims and survivors exacerbated by 60%. This is truly a horrifying figure, and as a company we refuse to stand by and do nothing. 
After combining our passion and ferocity for innovation we would like to offer you a selection of products that can act as a thoughtful personalised gift for a special someone or even to treat yourself; from henna decorated candles, to music plaques and resin keychains, our values to show passion and pursue excellence are shown through our immaculate attention to detail and quality of our merchandise.
Unlike other companies that provide personalisation, the use of a song and the option of a picture in our products gives them an even more meaningful and unique element that simply cannot be found in the addition of a name or number. Purchasing our products will help to spread awareness for these silent epidemics that thrive in environments of secrecy and shame.
"Light up the moment, play the memory"