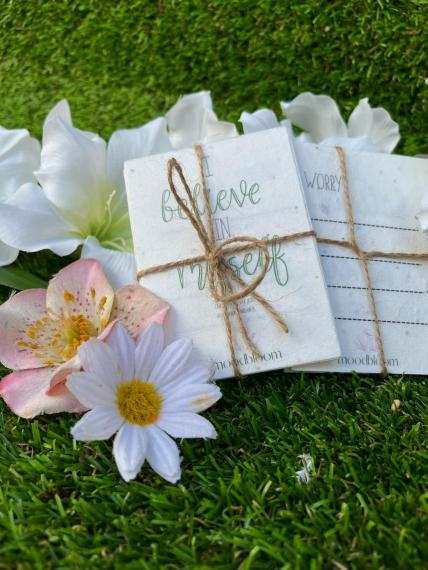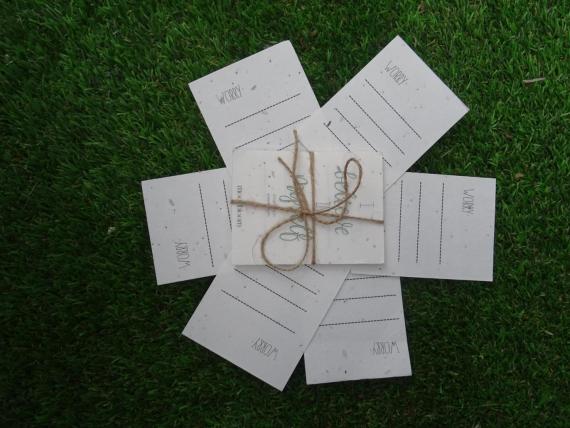 Pack of 6: plantable affirmation cards
£ 3.00
HAND CRAFTED SEED PAPER GIFT TAGS - completely recyclable and biodegradable - no plastic involved in the packaging or product!
Planting your tag:
1. Submerge in 5mm of water and keep in natural light. After a few days or weeks, the seeds will start sprouting. Transfer to a pot with compost.          
2. Alternatively, soak in water for 24-48 hours and transfer to compost before seeds sprout.
3. Water regularly - never let it dry out, but also be careful not to over water! Warm temperatures and sunshine are a huge help in getting the seeds started.  
The idea behind our affirmation cards is that our customer will write out their worries or troubles onto the back of the card and then are able to plant it, so that they can watch their worry turn into something beautiful overtime.
All products will be delivered via Royal Mail second class postage.
For more info on delivery and returns please find the Terms and Conditions page on our website @ moodbloom.co.uk
Moodbloom are a Young Enterprise team from Chesham Grammar School, selling eco-friendly plantable products. We are currently creating a product which incorporates affirmations or worries which would be planted into the ground via eco friendly seed paper. In time this would grow and converted into blooming plants. The product is aimed at teenagers and young adults alike, and is targeted as a combatant to the epidemic of mental health among the younger population.