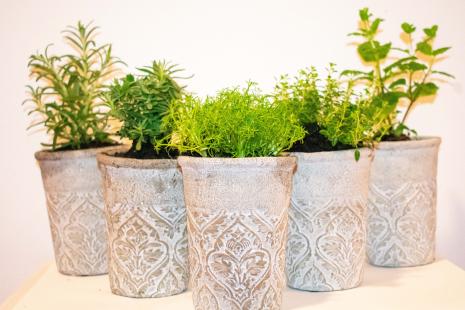 Plants with Purpose is a perfect way to enjoy an indoor plant, either for yourself or as a gift for someone special. This kit does not include the plant as it cannot be posted. 
Here at Plants with Purpose we give you everything you need to help your plant grow: a pot, a bag of soil, and a mini chalkboard with chalk to display your personal message – all packaged in a reusable fabric bag. 
Also included is our informational leaflet providing you with step by step instructions on how to pot up your plant correctly and how to keep it healthy and growing.    
Additionally, we'll give you some ideas on the many uses of certain plants, whether for food, for self-care or for your home. 
Since our plants are fragile and would not survive postage, we are offering the kits without the plant for around £9.00 + postage. Returns are not available.  
PWP is a team of Lower Sixth students from Hurstpierpoint college is Sussex. Our aim is to produce a quality product which our customers can continue to enjoy for a long time. Or give as special gifts to someone special. We have made to a conscious effort to keep our packaging materials reusable which is in keeping with our product.