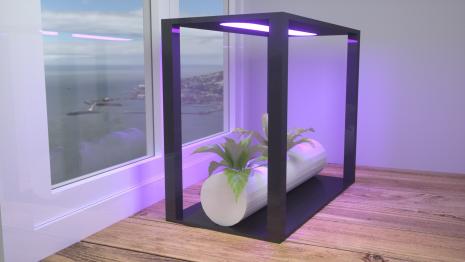 Project Eden - Hydroponics Kit
£ 50.00
Competitively priced at £50, our model is perhaps the most affordable hydroponics kit on the market with similar products priced at over £100. Our product is not only the best, low-cost solution, but it is also made almost entirely out of renewable materials and UV LED lighting.
Features:
A unique open chassis made out of renewable materials. 

A modular design so that units can be chained together. This is the epitome of extensible design.

UV lighting for more efficient power consumption and growth.

A water solution system with a reservoir.

Automatic Lighting
Delivery outside of London will be arranged on a case by case basis.
Delivery inside London ranges from free to £3.38
We're determined to make the planet a better place by helping to reduce world hunger and help protect the climate.
Our idea is to apply our Hydroponics solution in areas where it's needed most. Central to our vision is to have our product reach populations where it's difficult to grow food for basic consumption. This is due to water shortages, poor nutrients in the soil, poverty and often these regions are remote locations.
Starting small, our aim is to work with relevant corporates who would support our mission and engage local authorities and communities to pilot projects in key regions of the world, such as the Sahel Valley in Africa. In the Sahel Valley for example, food shortage is a recurring problem due to a combination of drought, poor accessibility to food, high grain prices, environmental degradation, population displacement and conflict.