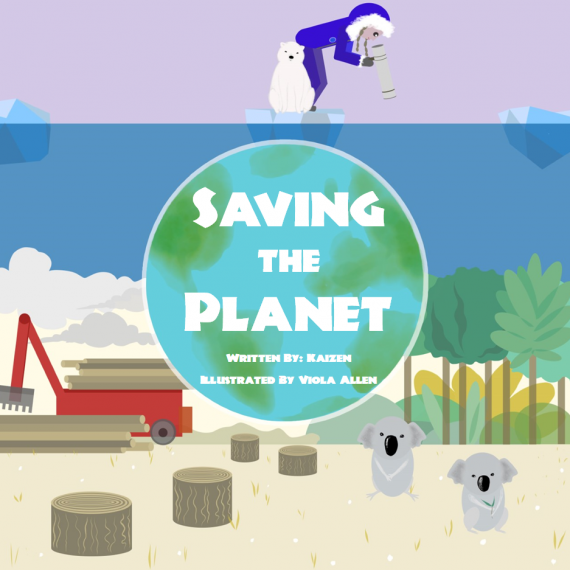 Ready to learn about ways in which you can help the planet? Join two brave Koalas on a quest to save their homes and a Polar bear who has lost her mum in the Arctic. Will the koalas be able to save the day? Will the polar bear ever be able to find her mummy?
Our book aims to teach children between the ages 3-5 years about the Climate change and Deforestation and what they can do to help. The book has scannable QR codes which unlock activities and further information about the issues being discussed.
Our book contains two different stories which makes this high quality illustration filled book amazing value for money. 
Shipped using Potato Starch Biodegradable packing
FOR WHOLESALE ORDERS OR MULTIPLE COPY ORDERS PLEASE EMAIL US.
More Details:
Inner : 200GSM Silk Card
Cover: 350GSM Gloss Card
Binding: Saddle Stitched 
For more information please feel free to email us
If you have any questions please fill in the contact form on our website. 
Written by Kaizen YE
Illustrated by Viola Allen
Postage Costs £1.99. The Book will be shipped using Royal Mail 2nd Class using Biodegradable Potato Starch Packing. The first orders will be dispatched in late January 2021.
Kaizen is a Japanese philosophy involving tackling problems at the grass root level in order to bring change for the better. The next generation will be most affected by the environment and climate change. We believe it is key to start tackling the issue of climate change as young as possible. We are the most impressionable in our youth and what is taught to us when we are very young influences us the most, therefore it is key to tackle this issue as young as possible. Our Goal is to teach the basics of environmental issues to children. This is why we have created two high quality books teaching young kids about saving the environment.